Joey Lynn King
(born July 30, 1999(1999-07-30)) is an American child television actress. King had many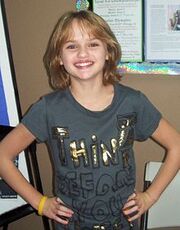 supporting roles in various films before her breakout role in
Ramona and Beezus
as Ramona Quimby. She played
Kirsten
in
Battle: Los Angeles.
Personal Life
Edit
Joey King was born in Las Vegas, Nevada. Her older sisters Haley King and Kelli King are also actresses.
King's first commercial was a national spot for Life cereal. Since then, she has completed over 104 commercials including national campaigns for Eggo and Walmart. She then appeared in her first film, Grace.
King has been featured in Reign Over Me with Adam Sandler, Quarantine, and has lent her voice to the animated films Horton Hears A Who! (2008) and Ice Age: Dawn of the Dinosaurs (2009). In the year 2010, she guest starred in the series Ghost Whisperer. She was also featured in The Suite Life of Zack & Cody as Emily in two episodes.
King's first lead role was in the 2010 film Ramona and Beezus, an adaption of the Beverly Cleary book series, Starring as Ramona Quimby opposite Selena Gomez as her older sister, Beezus Quimby.
She has appeared in several television shows and movies of the week, CSI, Entourage, Ghost Whisperer, Medium, The Suite Life and Malcolm in the Middle, to name a few. She has completed three pilots, one directed by J.J. Abrams.
Her first movie "Grace", was shot when she was six years old. On the first day of filming she had to pretend to almost drown in the cold ocean.
King has worked with Adam Sandler on the feature Reign Over Me, and said she loved learning to do stunts for the character Brianna, on Quarantine. She voiced the yellow fur ball Katie, for the animated feature Horton Hears A Who, and Beaver, for Ice Age 3-D.
King's most recent projects included Battle: Los Angeles, where she played a civilian named Kirsten, who was battling for her life with the help of many courageous Marines. In the feature Ramona and Beezus, based on the book series by Beverly Cleary, King portrays Ramona Quimby, whose character always seems to be in some sort of mischief or manages to totally embarrass her big sister Beezus, played by Selena Gomez.
In 2011, she appeared in Taylor Swift's "Mean" music video as a ballerina rejected by her peers.
It was reported by Variety in May 2011 that King will have a role in Christopher Nolan's 2012 Batman film The Dark Knight Rises.
Community content is available under
CC-BY-SA
unless otherwise noted.