Battle: Los Angeles (Original Motion Picture Soundtrack)
is a soundtrack album which contains Brian Tyler's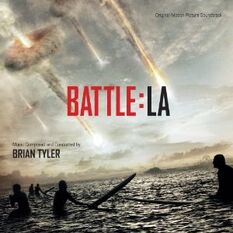 original score to
Jonathan Liebesman's
2011 film,
Battle: Los Angeles
. The soundtrack album was released on March 8, 2011.
Track Listing
Edit
All music composed by Brian Tyler.
Battle Los Angeles Hymn
Battle Los Angeles Main Titles
Arrival
Marines Don't Quit
Command and Control Center
Elegy
Redemption
For Home, Country, and Family
War Hymn
Evac
To Hell and Back
Mobilized
The Freeway
The Drone
Casualty of War
Rebalance
Regret
Shelf Life
The World Is At War
Abandoning Los Angeles
Battle Los Angeles
We Are Still Here
Not Included in the Soundtrack
Edit
"California Love" by 2Pac featuring Dr. Dre and Roger Troutman was used at the beginning of the film, where Staff Sergeant Michael Nantz (Aaron Eckhart) drives his Mustang along the coast before he changes the radio station. "The Sun's Gone Dim and the Sky's Turned Black" by Jóhann Jóhannsson is used in the film trailer.