Welcome to the BATTLE: LOS ANGELES WIKI
We have
122
articles in English
---
Know anything about Battle: Los Angeles? Don't be shy! Go ahead and edit one of our articles!
---
≈ About • Policy • Forums • Community Portal • Administrators ≈
---
Slider
---
---

News
---
---

Wiki news
---
July 30, 2011: The Wiki has reached 100 articles! Congratulations to everyone who contributed!
June 8, 2011: FootballsTheBestSportEver has been promoted to administrator!
June 1, 2011: The Wiki has reached 50 articles! Congratulations to everyone who contributed!
Notice: This Wiki is in need of administrators. If you would like to be an administrator on the Wiki, talk to Tsu'tey te Rongloa Ateyitan here.
Notice: Much of the information on this Wiki was taken from Wikipedia. Much of the credit goes to the people who work so hard to keep us informed on pretty much everything imaginable over at Wikipedia.


---

Featured Article
---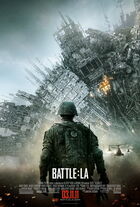 Battle: Los Angeles (also known as Battle: LA and World Invasion: Battle Los Angeles, and formerly known as Battle for Los Angeles) is a 2011 military science fiction war film directed by Jonathan Liebsman, and starring Aaron Eckhart, Michelle Rodriguez, Michael Peña, Ne-Yo, Ramon Rodriguez, and Bridget Moynahan. The film is set in modern day Los Angeles and follows a platoon of U.S. Marines during a global alien invasion, who are joined by an Airman and some Army infantry. The events of the film are inspired by the Battle of Los Angeles, a supposed World War II air raid of the city which turned out to be a false alarm caused by several unidentified objects.
Vote now for January's featured article!


---

Poll
---
Who is your favorite Battle: Los Angeles character?
---
Favicon made with Favicon.cc
Community content is available under
CC-BY-SA
unless otherwise noted.