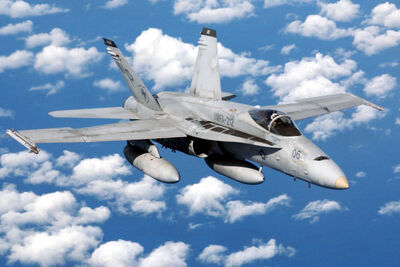 The McDonnell Douglas (now Boeing) F/A-18 Hornet is a supersonic, all-weather carrier-capable multirole fighter jet, designed to dogfight and attack ground targets (F/A for Fighter/Attack). Designed by McDonnell Douglas and Northrop, the F/A-18 was derived from the latter's YF-17 in the 1970s for use by the United States Navy and Marine Corps. The Hornet is also used by the air forces of several other nations. It has been the aerial demonstration aircraft for the U.S. Navy's Flight Demonstration Squadron, the Blue Angels, since 1986.
Specifications
Edit
The F/A-18 has a top speed of Mach 1.8. It can carry a wide variety of bombs and missiles, including air-to-air and air-to-ground, supplemented by the 20 mm M61 Vulcan cannon. Its two General Electric F404 delivers 17,750 pounds-force (79.0 kN) each with afterburner, giving the aircraft a high thrust-to-weight ratio. The F/A-18 has excellent aerodynamic characteristics, primarily attributed to its leading edge extensions (LERX). The fighter's primary missions are fighter escort, fleet air defense, suppression of enemy air defenses (SEAD), air interdiction, close air support and aerial reconnaissance. Its versatility and reliability have proven it to be a valuable carrier asset, though it has been criticized for its lack of range and payload compared to its earlier contemporaries, such as the Grumman F-14 Tomcat in the fighter and strike fighter role, and the Grumman A-6 Intruder and LTV A-7 Corsair II in the attack role.
Role in the Battle of Los Angeles
This is the aircraft that engages and destroys some of the Wedge Ships during the Battle of Los Angeles ;
It is confirmed that
-NONE- are lost to the alien forces. The F/A-18's wipe the Wedge Ships from the skies when they engage.