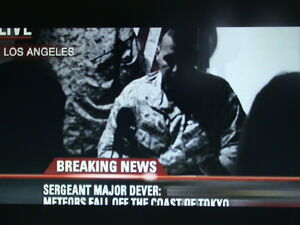 James Devor
, or
Glenn Devor
, is a character in
Battle: Los Angeles.
Biography
Edit
Glenn Devor was a Marine Seargent Major in the United States Marine. He was a participant in the Battle of Los Angeles, and during the beginning of the battle, he delivered a report on CNN on the current status of Los Angeles and the fight for the city, as well as the entire Human-Extraterrestrial War and the Invasion of Earth.
Jim Dever, or Glenn Dever, makes a cameo in Battle: Los Angeles as the Marine Seargent Major making a report on CNN. Jim Dever was a Marine in the USMC and had retired from the Corps at the rank of Sergeant Major.
They are two Dever`s in the flim the other one is in the 40th Infantry Division.