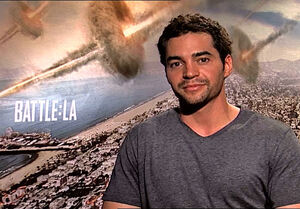 Ramón Rodríguez
(born December 20, 1979) is an American actor of
Puerto Rican
descent. He is perhaps best known for his recurring roles in the television series
The Wire
and
Day Break
. He appeared with
John Turturro
in
Transformers: Revenge of the Fallen
and
The Taking of Pelham 123
. He also played Bosley in the short-lived 2011 reboot of the
Charlie's Angels.
He played
William Martinez
in
Battle: Los Angeles.
Life and career
Edit
Rodríguez was born and raised in Río Piedras, Puerto Rico but later moved to the Lower East Side of Manhattan. He is an actor best known for his roles on two television series, the HBO Maryland-set drama The Wire and the ABC thriller Day Break as Damien Ortiz. He takes delight in all types of music especially Latin Jazz, Salsa and R&B.
Rodriguez attended high school in Michigan where he played basketball during 11th and 12th grade. Fast forward to college, he also played basketball at Wheeling Jesuit University for a couple of years. He then attended New York University where he earned his degree in sports management. His athletic nature and musical abilities combined for very interesting professional opportunities including working for Nike, the New York Knicks, basketball performance groups, salsa dance groups such as the Abakua Latin Dance Company, and opportunities to play the piano and conga drums.
Rodriguez has also appeared on television shows including Saturday Night Live, Law & Order, Rescue Me, and Always There. Rodriguez is also a professional dancer and has appeared in films such as Pride and Glory, Bella, and Transformers: Revenge of the Fallen, and lesser known ones such as The Wannabe, Ira and Abby, 5G, and Harlem Hostel, all made after 2005.
Rodriguez recently played Lieutenant William Martinez in the military science fiction war film Battle: Los Angeles and will also portray John Bosley in the 2011 reboot of Charlie's Angels.
Rodriguez is also a published writer, having written for Mambo, Newsweek, and Bound magazine.
He previously dated Puerto Rican-American actress Rosie Perez.
Filmography
Edit
Television
Edit